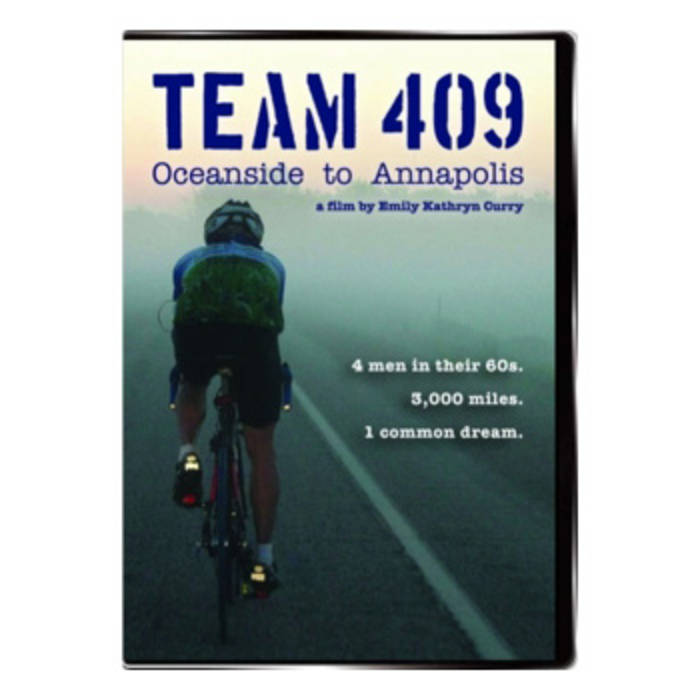 AKA: Team 409: Oceanside to Annapolis
Genre: Sports Documentary
Year Released: 2011
Origin: USA

Running Time: 95 minutes

Rating/Recommended Audience: PG
Related Films/Series: N/A
For Fans Of: Bicycle Dreams, Dream Riders, Vive le Tour
Notes: N/A
Fun Facts:

-This documentary was scored by Joshua Hedlund. He's director Emily Kathryn's husband and he's best known for playing accordion for the folk punk band Insomniac Folklore. You can stream and/or purchase the soundtrack
here.
-RAAM (Race Across AMerica), the race featured in this documentary is 700 miles longer than the Tour De France.
---


I happened to stumble upon this documentary by chance when I checked out composer Joshua Hedlund's Bandcamp account. He released a parody of the Insomniac Folklore song "Bodies and Arson", but with a geography bent which I downloaded, but I also found the soundtrack to Team 409, so I bought a copy of that DVD after buying the documentary.

It certainly was a good purchase that I made and I recently re-watched it again.
This documentary deals with Team 409 Hoosiers. As one can tell by their name, most of the members are based in Indiana. They have raced in RAAM and have set a record years ago in their division, but that record was shattered by an Australian team. By the way, their division is the sixty-and-up section. These retired men make a goal to beat their own record and the Aussies in RAAM.
You see, RAAM is one of the longest bicycle races in the world. The race itself starts in Oceanside, California (a suburb of San Diego) and ends in Annapolis, Maryland with over 3000 miles of cycling distance from coast to coast and it takes days to go through the whole thing. There are time stations which are little checkpoints that can be gas stations, bike shops, or even certain intersections.The film focuses on the race itself while getting anecdotes from crew members, the families of the racers involved, and some narrations from the filmmaker Emily Kathryn herself. She even makes a brief appearance early on in the film while everyone is setting up for the race.
RAAM definitely looked grueling especially during the scenes in Colorado. Given how mountainous that state is and the altitude issues prevalent, it certainly looked hardcore. Some of those drops and inclines gave me some chills and I have never (nor would I) bike in those conditions. I guess I'm wimpy like that. Haha! The scene with the long freight train felt like hell as all these racers and the crew cars waited forever to get through since that train blocked the route for the race. The tension is portrayed quite well in that race which was great.
The score by Joshua Hedlund worked well. These are piano and acoustic tracks that don't distract from the action, but they are audible enough to compliment the scenes. Although I do admit that one of the background piano pieces reminded me of "Unsteady" by X Ambassadors until I realized that Team 409 and the soundtrack came first. Maybe that band has seen this movie perhaps? I'll never know.
While the portrayal of the scenery and the race worked very well, not all of the footage was cohesive. Some of the scenes suffered from pixelation, poor lighting, and lack of white balancing in some of the really sunny scenes. Some of that was unavoidable like the natural lighting or lack thereof, but there could've been some minor visual changes. There were some scenes that had some digital fuzz which distracted me. There was one scene in a hotel where you can definitely see Emily in the mirror filming one of the crew members. Also, there wasn't that much conflict. Part of it wasn't anyone's fault since Team 409 Hoosiers had a fantastic showing, but there was rarely any shown conflict or frustrations except the train scene or some people temporarily getting lost.


Team 409 is a feel-good documentary, nay story though. You do want to root for these old Hoosiers (their words, not mine) to go all the way in this 3000 mile race from the Golden State to the Old Line State. Despite some technical visual issues, Team 409 is worth watching.
---
Adjustable Point System:
Add 1 point if you like cycling.


Pros:

-Beautiful scenery shots
-Team 409 and crew are quite likable

-Feel good story that doesn't feel shallow
Cons:

-Pixelation, aliasing, and some minor glitches
-Lack of noted conflict shown

-Some over-usage of still shots
Final Score: 7/10 points
Content Warning: There's some brief language including a scene involving a birthday medal for one of the riders (it makes sense in context), but it's not that much of a major thing. It's a safe watch for the family besides that.
-Curtis Monroe
Photos property of their respective owners and used under US "Fair Use" laws. The DVD cover is from Joshua Hedlund's Bandcamp page and is property of Emily Curry.