Here's another experimental list for Iridium Eye. This one goes out to all the otaku out there.
Since some of my most viewed posts involve anime, I guess it would be great to make a list dedicated to an aspect of Japanese animation. 

This one involves baddies in Japanese animation. I'm sure many of you can name famous anime villains such as Frieza, Team Rocket, or Queen Beryl to name a few. Because this is Iridium Eye, I want to focus on antagonists that are often overlooked by the anime fan community. While we certainly root for multiple protagonists out there, they can only be as good as how much of an obstacle the antagonists are. That's why I'm looking at the Top 7 underrated anime villains. Why Top 7? Because I feel lucky in making this list.
---
7. King Yukio from Kino's Journey (2003 version)
This tyrant from the Coliseum Arc managed to get a spot on his list. His level of despotic reign knows no bounds as any traveler or citizen that's in his kingdom is forced to be a gladiator. If they win this death match, he is able to grant the winner a new rule for the kingdom. Yukio was certainly effective in his villainy as he slaughters his family to keep the throne and he has a permanent smile on his face from killing anyone who was a threat to his regime. I don't even think The Joker grinned as much as he did throughout his screen time, so that should tell you something about his unstable arrogance. He certainly grabbed my attention in various scenes. While there are objectively better villains out there, King Yukio is certainly no dictator to mess with.
6. Queen Delphine from Last Exile



There aren't that many notable female villains in anime, but Delphine certainly was an exception to that rule. Unlike Yukio, she's a lot calmer and more subtle about her brutality with how she uses her royal status. Delphine is a decadent aristocrat who may look beautiful, but she has such a demonic heart. She's able to psychologically manipulate her subordinates where they have blind loyalty to her and she even alters her little brother Dio to follow her lead. One thing that I found sickening about this character is how extravagantly wasteful she is with her food. She brags about how one yak dish was made at the expense of starving hunters or how one catfish was prepared by cleansing it with 100 gallons of water. She certainly beats so many other evil queens out there and I feel that she gets overlooked by so many anime fans.
5. Saga from One Piece The Movie 5: The Cursed Sword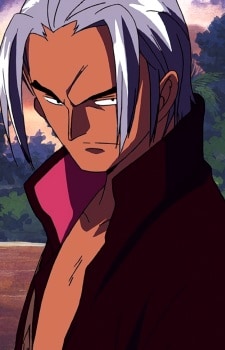 That's right, everybody! I'm putting a One Piece villain on this list. It's kind of strange for me, but I'm sure most of you haven't heard of him. I'm sure we could agree that villains such as Buggy, Crocodile, Arlong, or even Alvida of all people would outrank him in notoriety. When you check out Saga, you'll think he should be better known. Even though he's not that evil of a character, he becomes possessed by the titular sword and becomes crazy powerful and sadistic with it. One fact about him that gave him a spot on this list is that Saga has two wins over Luffy. Let me repeat that…Saga beats a Shonen Jump Breakfast Club member TWICE in the same movie. Let that sink in, people. Yes, I know this movie was more of a Zoro showcase piece, but that fact alone makes Saga an extremely dangerous antagonist for the Straw Hat crew and I don't know that many One Piece villains who have that many Ws against Luffy. Seriously, I wouldn't mess with this master swordsman.
4. Harry Killer from Patapata Hikousen no Bouken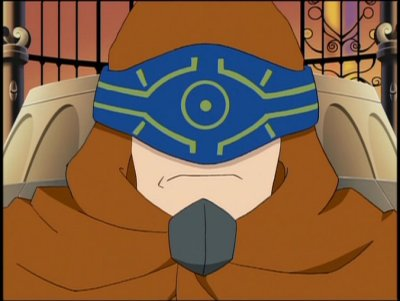 What better way to use this list than to mention this underrated anime series? Harry Killer is the leader and ruler of Neo City which is this technologically advanced area that he helped build. While there are several riches around, he secretly abuses anyone who dares defy him. I won't reveal his true identity even though it's obvious who he is if you watch that series, but he is a complex character who really didn't have to end up the way that he did. His last scenes can certainly be heartbreaking to watch given what Harry went through in his life and his connection to Jane. He's a threatening individual, but he's much more than what's hiding behind that strange mask.
3. Claw from Kimba the White Lion/Jungle Emperor Leo series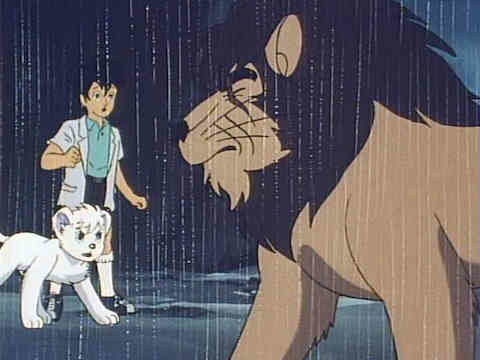 There's only room for one usurper in the jungle and that's Claw! No matter which iteration of Tezuka's infamous lion villain is out there, he's certainly there to cause trouble for Kimba and company. I liked how he doesn't try to be the "cool villain" or to be a Draco in Leather Pants (that would be terrible) as he does enough bad stuff to make you want to root against him even if he does have moments of some humor. Claw was originally going to be lower on the list, but there's one obvious fact about him that made him get the #3 spot and I can sum it up in two words: ORIGINAL SCAR! Come on, Claw has been in existence since 1950 with the manga and was first animated in 1965. It's not like this scarred black-maned lion takes over the kingdom and has hyena henchmen…oh, wait. YES, HE DOES! If you get into an argument with a Disney fan and they say that that company doesn't plagiarize characters, then show them Claw and call it a day. Shoot, even Simba didn't rip off Kimba THAT much in his design or personality. That alone should make Claw on any underrated villain list. Shame how prideful others are in denying his existence.
2. Kano from Texhnolyze

Okay, this shouldn't surprise anyone that I would put someone from a Yoshitoshi ABe series on this list. Kano was the perfect choice for my 2nd favorite ABe project. He's one of the most brutal masterminds out there as he works behind the scenes and obsesses over Texhnolyzation as the next big step of human evolution. Kano is able to exploit the population of Lux and cause massacre over massacre with the Shapes and the already dystopian environment. It's scary how effective he is as a villain when he got over on Onishi and Ichise so many times without them being aware of it all the time. Trust me, you're going to want to see his comeuppance at the end when he does unspeakable things to more of the city's population as he brags about being humanity's last hope of sanity and stability.
1. Johan Liebert from Monster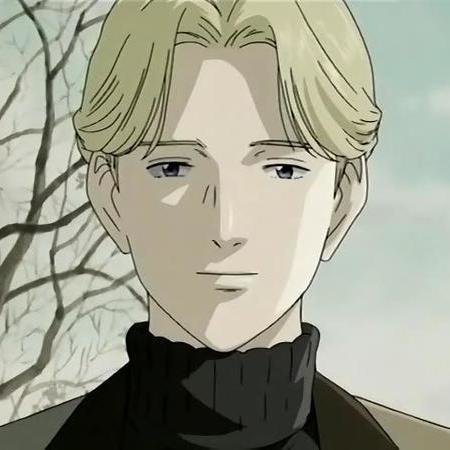 Why is this villain not on more people's top lists for anime baddies? Johan is one of the most straight-up evil villains I've ever seen and his level of manipulating others for his gain is near God tier for me. He's able to evade Dr. Tenma for so long and psychologically control so many people in the process, it's just phenomenal how much of a threat he is to so many out there. I'm also a sucker for "face of an angel/heart of a demon" tropes as it's a brutal inversion of the trope that only pretty people are good (just look at so many Disney movies…I rest my case). Johan plays up this antichrist role so perfectly with his immense charisma and looks so unassuming to the public. Don't let this German bishonen fool you, Johan puts so many villains to shame in his actions and being able to avoid the protagonists for so long.
Which villains do you think are underrated in anime? Make sure you comment here!
---
All photos property of their respective owners and used under US "Fair Use" laws. Kino's Journey is property of ADV Films and Sentai Filmworks. Last Exile is property of Gonzo and Funimation. One Piece the Movie 5 is property of Toei Animation. Patapata Hikousen no Bouken is property of TMS and Sega. Kimba the White Lion is property of Tezuka Productions. Texhnolyze is property of Madhouse and Funimation. Monster is property of Madhouse.
The screenshot of Queen Delphine from Last Exile is from Anime Characters Database and is property of Gonzo.
The screenshot of Saga from One Piece the Movie 5 is from MyAnimeList and is property of Toei Animation.
The screenshot of Harry Killer from Patapata Hikousen no Bouken is from Anime Characters Database and is property of TMS and Sega.
The screenshot of Claw is from The New Adventures of Kimba the White Lion is from the Kimba the White Lion Wiki and is property of Tezuka Productions.
The screenshot of Kano from Texhnolyze is from AnimePerson and is property of Madhouse and Funimation.
The screenshot of Johan Liebert from Monster is from Villains Wiki and is property of Madhouse.